Roast Pumpkin & Sweet Potato Salad w/ Falafel
Posted By biteme July 8, 2019
Roast Pumpkin & Sweet Potato Salad w/ Falafel
Ingredients
6 Bite Me Fine Foods Sweet Potato Rosti's
60g baby spinach
1 avocado, sliced
1 small butternut pumpkin, cubed
1/2 purple onion
200g corn cob, steamed and remove kernels
1/4 cup walnuts, crushed
Oregano
Balsamic vinegar
1/2 small lime, juice
Method
1. Preheat oven to 200 degrees Celsius. Place pumpkin cubes on a lined baking tray. Drizzle with olive oil and design with salt, pepper and oregano.
2. Meanwhile, steam corn and remove kernels.
3. Remove pumpkin from the oven and allow to cool.
4. Heat Sweet Potato Rosti's in sandwich press until golden on both sides.
5. To make salad, add baby spinach, sliced onion, crushed walnuts, avocado and add Sweet Potato Rosti's and pumpkin.
6. Squeeze with fresh lime and season with balsamic vinegar.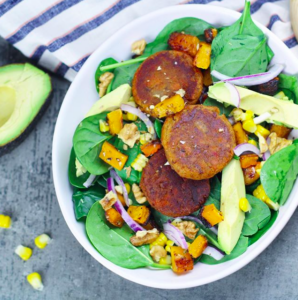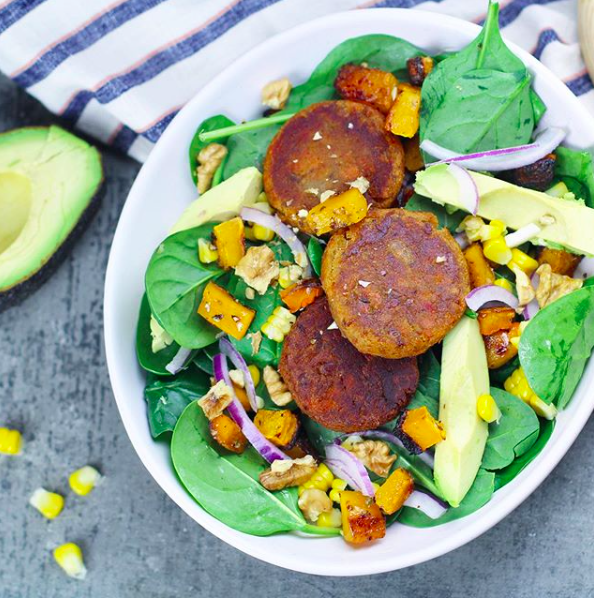 Recipe developed by Rebecca Sturgess – Nutritionist